To decorate a child's room in neutral colors with a animal theme, you need some basic décor rules to follow. But, it doesn't hurt to let your imagination run wild. When it comes to the animals to decorate the room, your choices range from using creatures A to Z or focusing on a single critter. There's a fine line between under thrilled and overkill while decorating your kid's room. Things like pink pigs covering everything from ceiling to floor or a detailed mural containing a pride of lions across every inch of the walls reeks of over stimulation.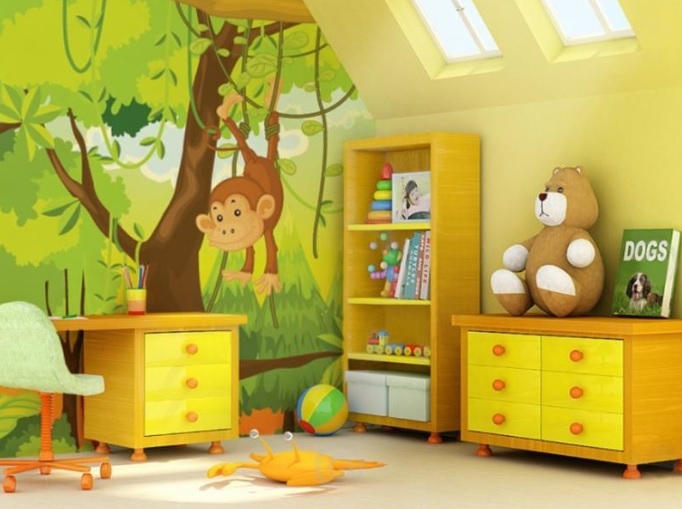 At the same time, a simple Lion King poster posted by the front door screens, "Who could care less?" You have to pay attention to detail and use balanced form to properly decorate a room in the animal way. Of course, this type of project falls into the category of subjective. So, there is no right answer as far as the best choices go. However, aesthetic value and pleasing objects are things that cannot be ignored while picking the best animal decoration. Overall, the best idea is to keep things sweet and simple. Good decorating ideas have an interchangeable and easy feel to them.
What's a Bedroom Without a Bed in the Room?
Naturally, the bed is the perfect place to start your focus on decorations for the bedroom. To this end, the pillows that go on a bed can serve more than one purpose. Choose pillowcases with an animal pattern such as ants or bumble bees. On corresponding pillows, choose letters that match the animal patterns to introduce your child to the alphabet. It would only take about half a dozen pillows with A through G on some all the way down to V to Z on the others to create the right effect.
With corresponding fitted and bed sheets to reinforce the association, you only need to change the bedding and pillow cases weekly to reinforce passive learning habits. The perfect compliment for pillowcases and sheets like this would be a huge quilt or bedding cover that a features your kid's favorite animal. There's one reassuring aspect of this type of bedding and sheets to remember. Colors don't necessarily have to match on these patterns, because a blanket is going to cover them anyway.
Besides having animal prints on pillows, it ok to use stuffed animals for bedtime companionship
As your kid grows and learns more about the animal kingdom, be sure to find more complex patterns for sheets and pillows
Pillow cases and sheets can be simple solid colors that compliment a single featured animal
Can you Ever Have too Much of a Good Thing?
The bedding that covers a mattress is not the only place where you can display a focus your child's favorite animal. That same favorite animal, or even a second favorite, can be featured on a throw rug on the floor. For example, if the kid's favorite animal is a dolphin sprawling across his or her bed, another dolphin on the floor might seem a little redundant.
In this case, a blue whale would give the room a more complete feel. Hanging a picture, or some kind of cloth, behind the door of a island surrounded by water would create a kind of trifecta for a room decorated with an aquatic feel. The great thing about this kind of setup is that it works for all kinds of animals and their environments. For example: if your child is into lions and tigers, then putting that pattern on pillows with a cheetah on the bedspread, a grassy plain on the rug, and a watering hole hung behind the door would create the same effect.
Floors can have more than one throw rug, and rugs can go on the walls as well
Create complete environmental themes by mixing and matching different geographic areas and indigenous creatures
Feature whole animal families in images whenever possible
You Know What Would Really Look Great on These Walls?
One great way to decorate a child's room in animal themes comes from using accent pieces. This means strategically hanging shelves around furniture or inappropriate nooks and crannies. After that, place wild and furry friends on them. This technique works especially well for children young enough or young at heart enough to keep a toy box in their room. Place shelves with birds and other aviary animals on top of them.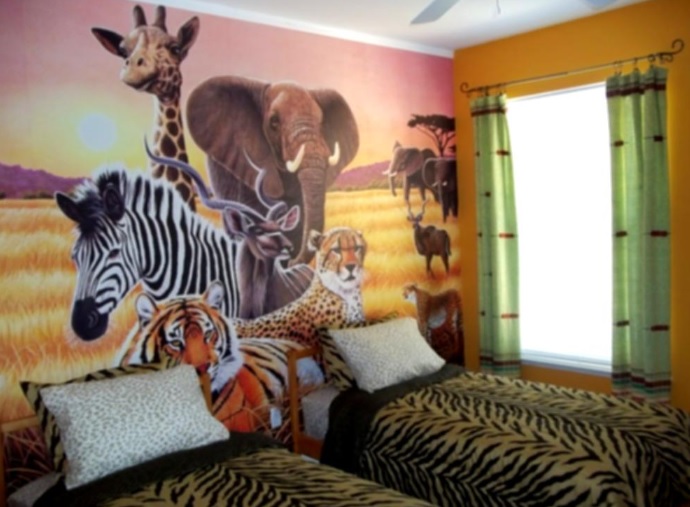 Under that, arrange a toy box with horses, rabbits, dogs, or cats on it. This is sure to give a bedroom a kind of day-at-the-zoo feel to it without having to clutter up the whole space too much. Of course, nothing beats a big huge soft teddy bear, or some other animal, sitting on a chair directly across from the bed. Those kind of stuffed companions are real lifesavers for a kids when it comes to sleep time.
To make that zoo feel for real, place stuffed animals in the toy box under all the other ones.
To make sure that certain objects are not mistaken for toys, simply place them on shelves out of reach of little hands
Slap as many animal stickers on the toy box that can fit, but try to make it tasteful and believable
What's That Over There Crawling on the Wall?
In limited spaces, shelves don't always have the priority. However, that doesn't mean that walls need to go neglected. Using a simple nightstand and a lampshade covered in a stencil pattern, you can put your child's favorite animal prints on the walls at night with little effort involved. To really make patterns on walls pop or have meaning, use "do to it yourself" art for that personal touch.
Using the natural environment surrounding a room is another good idea for getting the best out of wall decorations. For example, if there happens to be a bluebird or robin that sings outside the windows of your kid's room, paint or hang a darling replicate. You make get lucky and have the real thing sing to his little friend every morning for cheerful wake up call.
If you can, try to get a lamp light that has a spinning shade or some other device like that to make images more memorable
Painted and lampshade images can be arranged to interact with one another; they don't necessarily have to compete
You don't have to use the entire surface of a wall to get the best use out of it
What's Prettier for a Room Than Ocean and sky Blue?
When choosing the right animal images or patterns to decorate your child's room, remember to be consistent in color and theme. Of course, decoration is subjective, and final choices depend on mood and personal taste. But, there's nothing wrong with getting a little insight from professionals in the field to guide your vision. Ally Olson from VisionBedding.com says that for parents looking to decorate a room for their kid, animal inspired decor is fun, cozy, and gender neutral.
With that advice in mind, use light colors for the top half of the room while keeping earthy colors towards the floor. This color grouping only makes sense. It also ties an animal themed bedroom décor altogether. Color is also a great way to break up visual clutter that may be getting out of control. But on the other hand, it can compliment as well. For example, black and white stripes on pillows, throw rugs, or hangings can compliment any zebra placements in the room.
Walls opposite of each other don't have to carry the same color from ceiling to floor and quartering a set of colors on walls really opens up a room
When choosing the right décor, always consider using printed sheets as a way to put an image on a wall without having to change it permanently
Do you Remember That Time we saw That Thing Outside?
Thanks to advances in digital photography and printing, using photographs the focal point of decoration presents no problem at all. Having blown-up pictures of images taken on nature walks with your child works wonders for creating a personalized environment. Moreover, it really draws the family all together. The best part about hanging, or even framing and hanging, pictures taken together on nature walks is that they can last forever.
So, there's very little chance of a child out growing these additions to their environment. Scalability is another super-cool aspect to using animal photography for decoration. As an example, for rooms with limited space, tons of cute little photographs of butterflies work perfectly to make a room feel fun. On the other hand, huge pictures of wolf packs or kitten litters hang on walls nicely. And, they can even cooperate with each other in spaces that offer more room.
When picking out the right photographs, it's best to keep them focused on images of animals and exclude faces of friends or family members
Besides excluding friends and family in photographed images, pick something that is emotionally neutral for your child
Play with the color values of the photographs that you choose to go with; a simple inversion of values goes a long way with photographs
Why Wouldn't you Want to Hang Decorations From the Ceiling?
When picking out animal patterns or decoration themes for your child's bedroom, don't ignore the possibilities just waiting to happen on the ceiling. It's as simple as throwing up a little bit of thread and letting some stuffed animals hang in the air. Or, you may decide to pin some sheets with images of your kid's favorite animal in a corner or two. Throw ups like these add a definite pop of color and volumes of layers to a room, which cultivates excitement.
When choosing the right wild animals to hang from the ceiling, don't be afraid to incorporate a little bit of the insect world
If there's enough space for it, choose larger creatures or even flying type dinosaurs as ceiling decoration
Layer images or objects that hang overhead to give a flock appearance to decorate
What Colors Work Best for Windows in a Kid's Room?
No bedroom decoration is truly complete until the closet doors and windows have been addressed and covered properly. For sure, the whole point of having window drapes is to keep things private. And in some cases, drapes work well for keeping heat indoors. They can also look cute and hold patterns while doing their job at the same time.
Make sure your drapes are keeping light from passing through windows and heat escaping the house. You should place a solid-color set behind your animal themed patterns for an extra touch of material. Posters can be placed on the outside of closet doors to add an accent of style and fun.
For a truly stylish look, choose colors for closet doors and windows that compliment each other
Both sets of curtains, ones with images and patterns or just plain colors, should match the decorations on closet doors
Did you Hear Something Just Now?
Don't be afraid to use light and sound in your efforts. These effects can bring all the animal-themed choices that you make for your child's room together. Having a special lamp, or hanging a crystal to shine a selected color for the different times of the day, brings you decoration decisions to life. Placing a background noise machine that plays a soft and subtle environment loop completes any animal theme.
Make sure to set a timing limit or preset hours for the background noise you choose to accent the decor
Keep access to the volume of the background noise in reach of the bed and front door for ease of use
While letting your imagination run wild, make sure that you don't scare your child. After all, they have to sleep in the room. Keep a steady and neutral mindset as you decorate. Getting some insight is one easy way to ensure that they enjoy what goes into their room. So, ask them first what they like and don't like.
Be prepared to make choices and compromises that might not necessarily make sense to you. It doesn't matter if you find caterpillars or crickets disgusting. Creating an environment your child loves is one of the few things that does matter. Ultimately, there really is no official rulebook to follow for designing a perfectly put together bedroom. So, it may take more than one try to get things right.