Nothing beats the comfort of slipping into your favorite pair of go-to jeans at the end of a long day – except maybe being able to wear those jeans all day long and make them look chic. Thanks to different cuts, styles and washes, wearing denim is no longer just for out-of-office fun. With a little help from cute tops, stylish jackets and fabulous accessories, you'll have no problem wearing denim almost anywhere, any day of the week.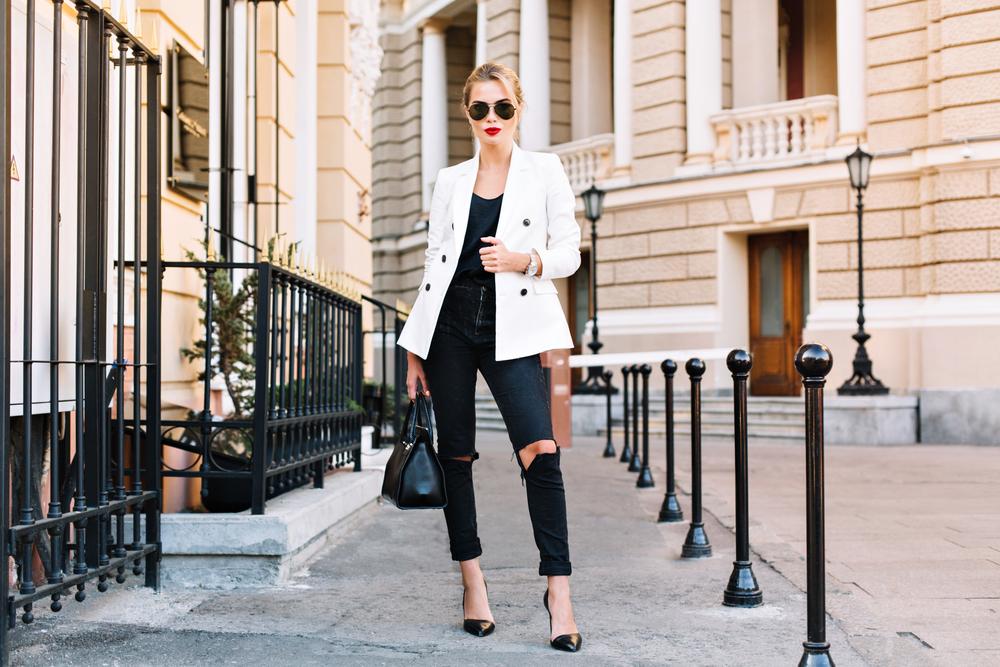 Keep reading for a few of our tips on dressing up denim and how you can take your jeans from casual to classy, quick.
Swap Out Sneakers for Heels
You may be conditioned to think comfy sneakers are the best choice for a jeans and t-shirt look but think again. Unless you currently carry around a backpack and spend the majority of your day waiting for the next bell to ring, you need this look to reflect the stylish adult that you are (or at least try to be). Instantly transform any pair of jeans from casual comfort to glamorous style with a pair of high heels or strappy sandals. You don't even have to wear your most fancy top to pull off this look. A pair of high-waisted skinny jeans, black stiletto heels and a mid-waist sweater or T-shirt will definitely get you noticed.
If heels aren't your thing, then try the same look with a pair of eye-catching flats, booties or mules in a fun pattern or vibrant color. They may not give you added height, but they'll definitely elevate your look more than any regular pair of sneaks.
Accessorize
When it comes to dressing up your casual jeans, never underestimate the power of a good accessory. You may already know that a statement necklace or some stacked bangles on your wrist can work wonders, but don't forget about the non-jewelry accessories in your closet, too. An embellished cross-body bag worn with the right outfit can really make an iconic statement for any occasion. Try carrying your essentials around in a vibrantly embroidered purse or patterned clutch. Yes, your bag of choice should be functional, but that doesn't mean it can't look cool, too, when paired with some distressed boyfriend jeans or a chic denim jacket.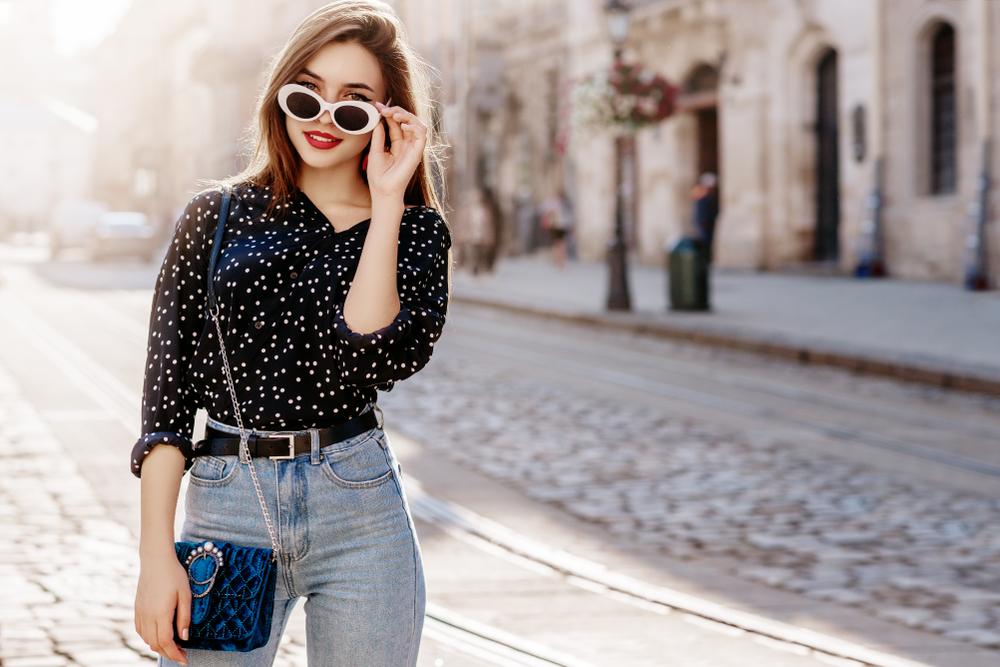 A stylish scarf can also go a long way in carrying a basic outfit into the land of the living-fashionably. Wrap a long scarf around your neck to bring an air of sophistication to your look. Add a flirt of whimsy to your attire by tying a colorful silk scarf in your hair or at the neck. Why should necklaces get all of the fun? Switch things up by wearing a scarf as part of your classy denim look.
Chic Layers
Layering is always a good way to take your personal style to another level. Adding layers is a great way to give your outfit depth and make it interesting, but it also runs the risk of looking frumpy and sloppy if you don't do it right.
The most important rule for layering is to always start with a fitted pant – like distressed high-rise skinny jeans – and add on from there. Add a long tank top for a slimming, smooth look. Once you have your fitted layer handled, you can add on more loose-fitting clothing, like a colorful and flowy tunic and stylish mid-rise leather jacket. However you choose to layer, make sure to keep the look neat and put together.
Go for Patterns
Think of your jeans as a blank canvas for you to build upon. Your outfit is your masterpiece, and your jeans are the foundation on which it all lies – by which we mean you shouldn't be afraid to take chances with your wardrobe. Have fun trying out a bold, patterned coat or blazer. Even a sassy leopard print shoe worn with a dark wash jean and black turtleneck will quickly become the outfit you can wear to both the office and drinks. Just remember to keep the bold patterns to a minimum in any outfit. One statement piece is all you need to make a lasting impression – anything beyond that runs the risk of being loud and tacky.
Denim Essentials Every Girl Needs
In case you're wondering how on earth you could possibly be expected to dress up the same pair of jeans every week (or day for that matter), don't worry, we aren't putting that pressure on one pair of jeans.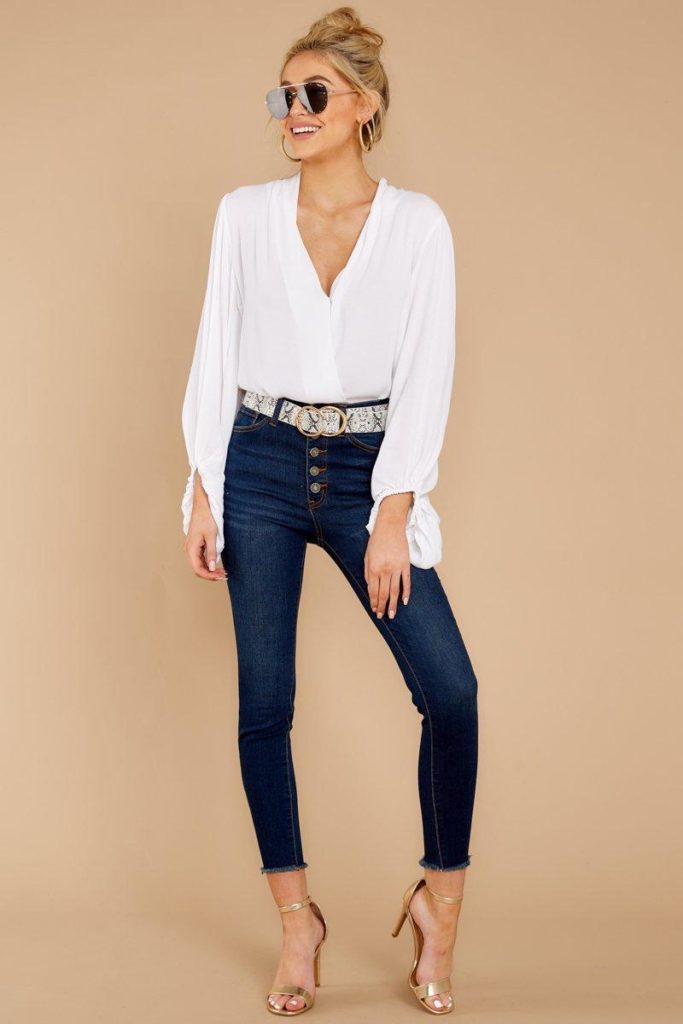 Here are just a few of our denim essentials we insist you need in your closet:
White Denim Jeans: When it comes to dressing up denim, we don't believe in playing favorites – which is exactly why we expect you to broaden your denim horizons. A good pair of blue jeans is gold for any girl's wardrobe, but a stylish pair of white denim jeans can be just as good. White denim pants look great under a long sweater with boots for the office, paired with an edgy leather jacket for a concert or worn with a nice blouse and heels for a Diddy-inspired-white themed summer event. Need we say more?
Jean Jacket: Every girl should have one of these in her closet. Not only do they look great worn with a maxi dress in the summer and fall, but a good jean jacket can make any basic T-shirt look trendy. And don't worry about the whole 'denim on denim' faux pas – that's a thing of the past. To successfully pull off this look, your best bet is to start with a well-fitting pair of skinny jeans in a medium wash and then add a more relaxed fit, like a boyfriend-style jean jacket, on top.
Chambray Denim Top: This top looks just as good tucked into a pair of black denim jeans with studded heels as it does worn loose on top of dark washed skinny jeans with a pair of white sneakers. Add some stylish accessories like an embellished handbag, cool shades and a large brimmed hat, and you'll have the denim look down.
Distressed Denim: Wearing ripped jeans in public during high school may have been your mother's biggest embarrassment, but now it's practically the thing to do. Throw a pair of distressed skinny jeans or frayed boyfriend jeans into your wardrobe rotation to give your look a trendy edge. Try pairing your distressed jeans with a leather jacket or stylish blazer. Even a distressed denim pencil skirt worn with a crisp white button-down neatly tucked all around, would be a chic work outfit any day.
Don't let your jeans suffer another week stuffed into your drawer, waiting for the weekend. Follow these tips on how to dress up your denim, and you'll be sitting pretty in comfort – and style – all week long.