DIY facemasks can be made very easily even if you have no knowledge about sewing. There are many different methods and ways of making a homemade face mask. Here we outline three of the ways adding in our own tips on how to make the most comfortable and easy to create a face mask. This guide covers how to make a homemade face mask i.e. a bandana-style, utilizing a T-shirt, and sewing your own face mask The first two require no sewing at all. The third involves some embroidery, either utilizing spare fabric you have lying around at home, or some bright or patterned fabric from a retailer.
But before we get into our instructions of making a face mask, first think about whether or not you need one at all. The official advice on this contrasts across the globe, but the general agreement is that wearing a homemade mask won't help you get exposed to the Covid-19. It can only protect others from you passing on any germs that you may be carrying, this may be particularly valuable on the off chance that you d don't realize you are carrying the infection. With all of that as a primary concern, here are three ways to make your own face mask.
Wearing masks out in the open or community settings, especially in situations where you may be near other individuals. Wearing a mask is recommended by WHO and many state and county health departments. It is always important for our own safety and protection to wear a face mask whenever going out. The motivation behind using face mask as suggested by health organizations is to make sure about the safety of individuals around you. You may be infected by disease without having any symptoms. In the event that you lack sewing aptitudes and you are looking to make a homemade mask. The following guide will help you in this regard.
Bandana Style Face Mask – How To Make Homemade Face Mask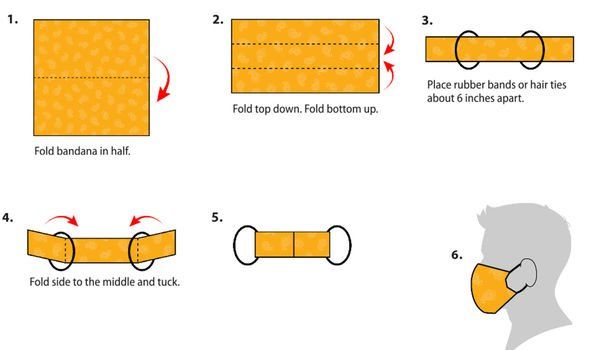 This is the easiest and quickest way to make a face mask.
You will require:
A bandana or scarf
2 x elastic bands or elastic
A paper towel
The easiest method for making your own face mask includes utilizing a bandana or a scarf. Hold your scarf to the light and figure out how much the things are visible from the fabric, the more you see things better – then your face mask won't be as effective.
First of all, fold a bandana into half and then give it a second fold again both the top and the bottom. At this point, you can also add a square bit of a paper towel to your mask. Then place your elastic bands around your strip of material, and crease the material in towards the center, tucking the closures into each other if conceivable. This is an exceptionally fast and easy method of making your own face mask.
T-Shirt Face Mask

You will require:
A T-shirt
Scissors
Paper towel
On the off chance that you have a T-shirt that you wouldn't fret cutting up, then you can easily and rapidly make a face mask from it. Note that you don't want to utilize really old T-shirts in the event that they have openings in them or are worn through. Start first by citing the bottom of your shirt. The amount of material you need should be in length from your chin to your nose. It's best to cut greater than you think you need so you can trim the abundance later.
You then need to cut into your T-shirt to make the ties for your face mask. After that retire the cuts around the neck. Adjust until you get a cozy fit around your nose and chin. In the event that you like, you can add an espresso filter or paper towel to your face mask, and secure it with a safety pin.
Cloth Face Mask with a Sewing Machine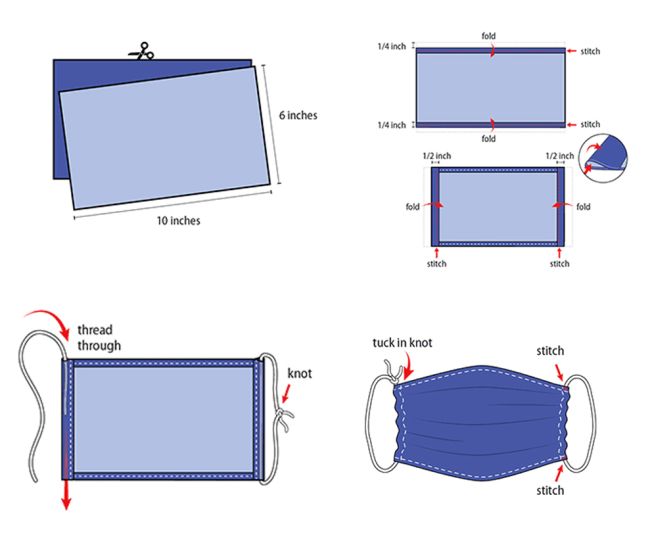 You will require:
Cotton fabric
Elastic bands or Pieces of elastic
Sewing machine
Needle and thread
Scissors
Pins
First, place your two bits of fabric on top of each other. You want the pattern that you'd prefer to be on the 'front' of your mask face down. The bit of material facing up towards you will be within your mask.
Next, crease over the long sides of the material around 0.8cm. Pin in place and hem. Hem just means collapsing the edges of your material over and stitching them so your fabric won't fray and will stay together. When you have hemmed along the length of your face mask, crease over the sides of your face masks around 1.5cm, pin, and hem the sides too. You can then adjust your face mask to fit your face. If you're a good sewer this whole process makes take a very small amount of time.