There's nothing we love more than a royal wedding – actually, we take that back. There's not we love more than talking about the fashion choices, trends, and styles that are present at the royal weddings, not to mention the end-all-be-all topic: the royal wedding dress.
Throughout the decades, we've seen unique, elaborate, classic, simple, and sophisticated dresses. Each woman married into the royal family with grace, style, and elegance, but they all did it in different ways. We're here to break down a few talking points about the royal wedding dresses throughout the years with JJ'sHouse designer, Jessica. Without further ado, let's talk gorgeous dresses!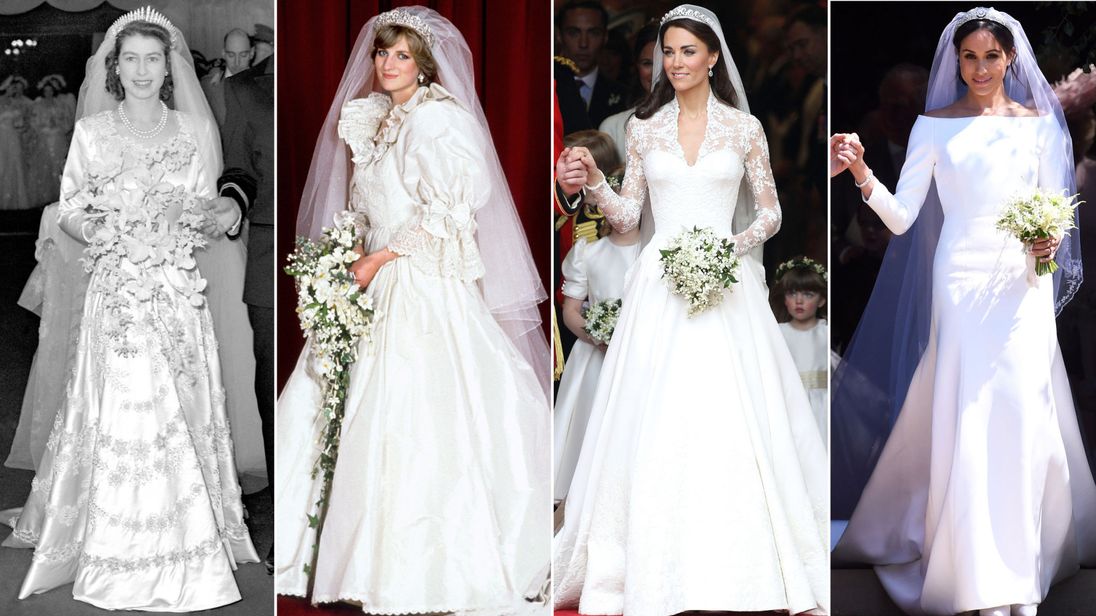 Read on for more information:
Victoria
We're taking this all the way back to the 1840s, guys, so we hope you're prepared to get really wedding dress crazy. While there was no photographic evidence of this dress, the dress itself (all silk and lace, thank goodness) has been carefully preserved for our ogling pleasure. This ivory, silk dress with a full skirt (worn by Victoria when she married Prince Albert in 1840) was a dreamy, romantic, glorious dress that had both uniqueness and elegance stitched into its fabric.
Elizabeth II
When it comes to elegance, Elizabeth II had it covered. When she married Philip Mountbatten, Duke of Edinburgh in 1947, she rocked a nothing-basic-about-it dress with a 15-foot train made of transparent ivory silk. Even more elaborate, her silk, ivory dress was encrusted with pearls and crystals and lined with satin flowers. What we'd give to try this beautiful dress on!
Princess Diana
Everyone remembers this dress of epic proportions. Very much in with the times (it was the 80s, after all), Diana rocked a puffy-sleeved, giant-skirted, full-of-fabric dress when she married Prince Charles. It's been said that her gown was so big, in fact, that it almost didn't fit into the carriage she pulled up the church in. A British silk-spun dress with flounces of antique lace and a small blue bow flown into the waistband, this dress had 80s written all over it.
Kate Middleton
When Kate married Prince William in 2011, people almost fell more in love with the Alexander McQueen dress she wore than her! The New York times called this dress with its modest V-cut, delicate lace, and long, elegant train the "wedding dress of the decade."
Meghan Markle
The latest princess to join the royal family didn't try to do anything bold or outrageous with her dress, rather, she kept it simple, sweet, and sophisticated. Markle worked with Givenchy director Clare Waight Keller, the first female artistic director at the company. Her dress was modern and stunning with ¾ length sleeves, an open bateau neckline, and a train that was cushioned with triple silk organza. Soft, elegant, feminine, and sophisticated, Markle's dress wowed the world as she walked down the aisle and wed into the royal family.