So, I'm looking through my own wedding album, wondering why he married someone with no chin and teeth like a horse. I also found out recently our anniversary just happens to be Walt Disney's death day. (I wanted to have it in spring, but my father-in-law was afraid I'd change my mind by then.) I wonder if the spaghetti straps and scoop neck were a good idea as not only was it the middle of December but I'm a bit busty. (Oh, that's why he married me.) But, at least I got the right accessories!
I personally went with less is more on the accessories. My arms were bare, but I got my nails done with a silver polish to go with my wedding ring. My hair was in a chignon with a wreath of red rose buds and white baby's breath keeping my veil on. I wore a slim gold chain with an opal pendant and pearl drop earrings. (Clip-ons. I hate needles.) A bouquet of red roses was cradled in my right arm.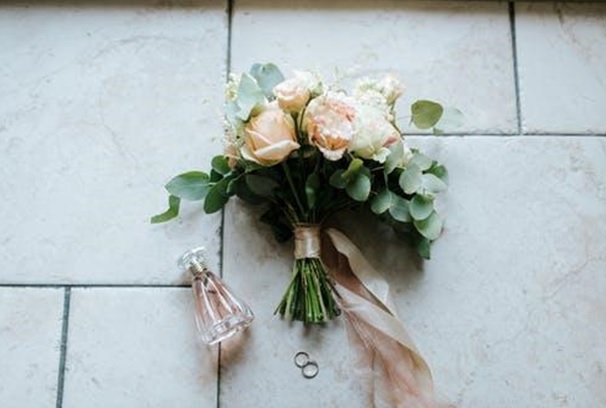 Here are some things to keep in mind when choosing accessories for your wedding day.
1. Be Timeless
It can be hard to find a dress that can't be placed in any era. For instance, the bare arms, shoulders and cleavage of my dress would make a Victorian faint! But, go for accessories that could fit in any time period. My simple pendant and drop earrings would be a good example. The chunky bracelets of the 80's look a bit out of place now. The crystal tassels and pearls the size of jawbreakers popular now will look a little silly in twenty years. And those cutesy heart shapes need to stay with the Care Bears where they belong.
2. Match the Metals
If you have a promise rings, remember to switch it to your right hand before you go down the aisle. This is a good place to start before choosing what kind of metal you will wear. Platinum, gold, and silver are the most general metals for jewelry. Gold is sometimes alloyed with other metals to make it yellow, white, rose or even green. You don't have to be matchy-matchy but don't clash.
3. Get a Cover Up
I probably should've looked into this! A faux fur or a satin bolero jacket can keep you warm while adding a little flare. A wrap or shawl that matches your gown would be appropriate. If you are from a particular ethnicity, you could try something with a print reflecting your culture. This can be a Ghanan Kent, a Scottish tartan, Indian sari or Japanese Haori.
4. Think of the Shoes
My wedding shoes were my something old. They were simple white heels that my husband's late grandmother owned just long enough for them to be broken in. She wore a size seven just like me, so it was practical. If your shoes are going to be covered by your skirts most of the day, you can opt for comfort and wear boots or sneakers like Julia Roberts in Runaway Bride. (But don't really run away!) A bit of trivia: In Germany, a bride is expected to buy the shoes she will wear to her wedding herself and pay for them with Pfennigs to symbolize that she will be a frugal wife. You got to wonder what happens if she decides she wants Versace.
5. Match the Necklace to the Dress
My wedding gown had a low neckline and a bit of beading and embroidery as decoration. I made the right choice going for a simple necklace. A very high neckline (required in some churches and synagogues) and lots of lace, beading or embroidery would not call for a necklace. Anything that bares the collarbones calls for some sort of decoration. Chokers work with the bateau neckline. A simple dress can be worn with a fancier necklace. Pearls represent purity and femininity, but some people think they're bad luck at weddings because they look like tears. As for my opal, some people say opals are unlucky, but that's only because they're hard to polish. They also represent fidelity and hope.
6. Accessorize Your Hair
Don't just stick with earrings and necklaces. You need to dazzle up your hair too! Jeweled hair pins are a good way to go, but really, you can't go wrong with flowers. Fresh ones smell nice, but have a tendency to attract insects, particularly if you have an outdoor wedding. There is a reason why the bride traditionally stands on the groom's left. It's so he'll have his right hand free to fight off anyone trying to steal his bride. (Jilted suitor, in-law that changed his mind, roving barbarian, whatever.) It's also so she can extend her left hand to show off her ring and say "Kiss it, losers!" Of all your accessories, this is the most important.